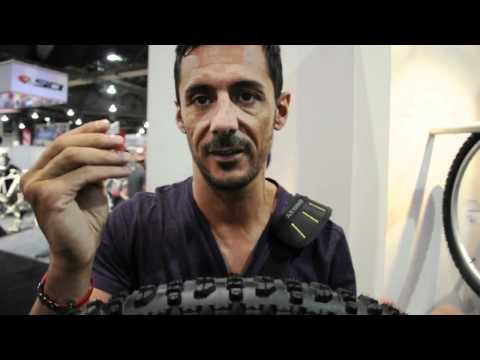 Cedric Gracia shows off the new Panaracer DH 26×2.50 Downhill tire.  Cedric was very excited about this tire as it is the big brother of the CG All Mountain 2.35 tire.  This tire is much bigger and it features softer knobs. Normally a durometer of 40 is too soft and is either unstable or wears out too quick. But because of the big block knobs on this tire, it holds up well and produces great traction.
40 durometer soft rubber  compound. That means super sticky
4ply
Shaped knobs provide great side-to-side grip
Predictable traction
Good rolling resistance
Much better durability than other soft, race-day tires.
26×2.5″
Weight: 1220 grams
We have been using the Panaracer CG AM version of this tire at the Mtbr testing trails and we have been very, very impressed.  The tire offers amazing traction and is very stable at wet or loose conditions. Cornering is predictable and has good transitions when leaning.  And the bonus is braking and climbing traction is A+.   We can't wait to try the DH version.
Panaracer Driver 2.2″ 29er
The other  exciting introduction from Panaracer is a new XC 29er tire.  This tire has small knobs and is looking like a fast roller. But unlike the popular 29er XC tires, this looks to have more side grip for greater handling and cornering ability.
The new 29 is the 2.2 "Driver". Kevlar bead, 600 grams. MSRP is 55.95. It will be available late December 2011. It's designed to be fast rolling with 2.5 mm center knobs with a special rounded profile and 3 mm side lugs for seamless transitions and cornering.


Related posts: