Light & Motion brought their newest commuter lights front and center to this year's Interbike. Both the Vis 360 and Vis 180 were the centerpiece as you walked up to the Light & Motion booth. The VIS 360 is a combination headlight and taillight that snaps easily onto most helmets. Light & Motion claims it's the first bicycle light to offer a full 360 degrees of visibility for the bicyclist. Daniel Emerson, CEO of Light and Motion spent a lot of time researching and found that intersections are the most dangerous places in traffic for the bicyclist, with over 72% of accidents occurring there.
"We specifically chose to position the lighting on the helmet – fore and aft — because it raises the light above the fray of other vehicle lighting and puts it at eye level for car drivers." says Roxy Lo, Industrial Designer for the Vis 260. "The Helmet light is easily directed by a nod or turn of the head, animating the cyclist and reminding car drivers to be more careful."
The complete system weighs in at just 130 grams and is hardly noticeable on the helmet because of the split design.
Eric from Light & Motion gave us a closer look at the 360, as well as a tour through the entire lineup at Interbike…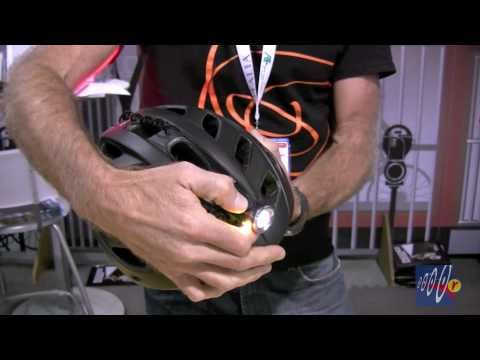 Related posts: