Finish Line has long been known as oil/lube company and they have always had quality cleaners and brushes. Their distinctive green plastic chain cleaner is actually one of the oldest products listed on Mtbr, with reviews dating all the way back to 1996! ( http://www.mtbr.com/cat/accessories/tools/finish/line-chain-cleaner/PRD_353433_152crx.aspx )
This year, Finish Line was featuring 3 new products at Interbike as seen in this video: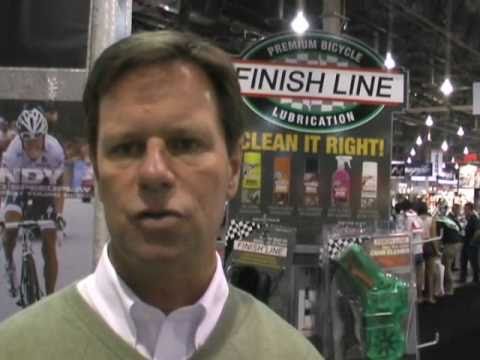 The first one is their new Gear Floss. This is a washable micro fiber piece of rope that you use to actually "floss" the cogs, rings and derailleur pulley on your bike. The micro fibers attract and hold the dirt, grease and grime leaving a clean drivetrain behind.
The Starter Kit 1-2-3 is a combination of the popular Grunge Brush, Dry Teflon Lubricant, and Multi Degreaser all in one simple clean and lube kit. MSRP is $19.95
The newest lubricant from Finish Line is the Ceramic Wax Lube.

From the manufacturer:
"Finish Line's Ceramic-WAX is an advanced wax-based lubricant featuring nano-sized platelets of ceramic boron nitride and micron particles of fluoropolymer. Ceramic WAX creates a coating with an extremely low coefficient of friction. Every time Ceramic WAX is applied, the ceramic coating is enhanced, ultimately providing the durability of many oil-based lubricants! Ceramic WAX ensures total drivetrain cleanliness without the 'distance' compromise that other wax lubricants require.
With Finish Line Ceramic WAX there is no 'wetness' or stickiness on your chain or parts, so dirt or grime are not attracted or absorbed by the lubricant. By avoiding abrasive wear, parts run more smoothly and last much longer! And Ceramic WAX is engineered to not have a wax film that will buildup over time.
The technology that defines Ceramic WAX is so unique and leading edge it's patented!"
• Patented nano-Ceramic Chemistry
• Smooth & Quiet and extremely durable
• Perfect for dry climates & dirty conditions
• Builds ceramic coating on frictional surfaces
MSRP:
2oz. bottle $5.99
4oz. bottle $9.99
Finish Line Premium Bicycle Lubrication
www.finishlineusa.com/
Related posts: