Bionicon USA didn't have a booth at Interbike this year but they were walking the floor with a new bike (the Bionicon Reed) and a sweet new 19-gram chain guide called the C.Guide. The C.Guide V.02 is a great example of simple, elegant design. It's so simple and obvious you can't help but wonder why no one ever thought of it before. Actually, I've been told there was a similar chain guide in the nineties but it was a hook instead of a tubular design like the C.Guide and big hits could still knock the chain loose. I've been a devoted user of the Montara Designs 3-Guide for years – the only triple chainring guide I've heard of – until now. I have a feeling the 3-Guide will be coming off my two-ring trail bike to be replaced by the C.Guide.
Below is a really good video of the Bionicon C.Guide V.02 in action – with gear changes and everything!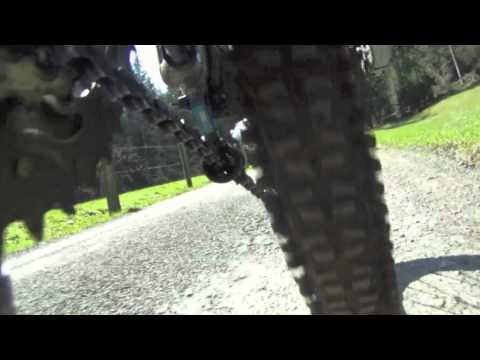 The C.Guide is compatible with two and three-ring drivetrains, it weighs only 19 grams (0.67 ounces), mounts on most bikes with standard chain stays, comes in six colors and it will sell for just $50. There's no exact date yet but they plan to have it available in the US sometime this winter.
Bionicon Mountain Bike Reviews >>
Bionicon Mountain Bikes Web Site >>
Related posts: